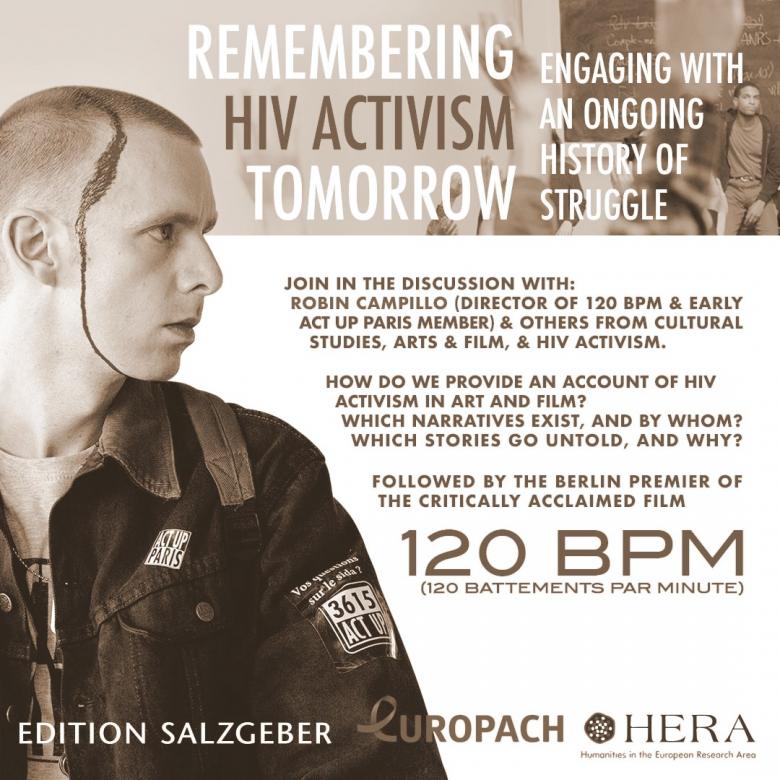 Remembering HIV Activism Tomorrow: Engaging with an Ongoing History of Struggle
How do we provide an account of HIV activism in art and film? What kind of narratives exist, and by whom? What do these stories of the past say about today, and about the possibilities for the future?
On the evening of the Berlin-premiere of the film "120 Battements par Minute" (120 BPM), which looks back at the Paris satellite group of the transnational AIDS activist movement ACT UP! (AIDS Coalition to Unleash Power!), come and join EUROPACH members, associated partners and invited guests (heranet.info/category/project-title/europach) for a group discussion that seeks to address these and other questions.
Entitled "Remembering HIV Activism Tomorrow", the collective reflection will bring together a range of activists, researchers, artists and other actors directly engaged in or involved in documenting the history of AIDS activism in Europe, including the director of the film and former ACT UP! Paris member, Robin Campillo.
The discussion will be free of charge and include drinks and light food, and will take place in English in the Friedrichshain-Kreuzberg Museum on the 13th of November from 6 to 9 pm. Immediately following the event, the group will head to the 22:00 screening of the film at Kino International, which will be in French with German subtitles and cost 7.50 (6.50 reduced).
FHXB Friedrichshain-Kreuzberg Museum
Adalbertstr. 95A, 10999 Berlin, Germany
Monday, November 13 at 6 PM - 9 PM
// Poster design by Colin Quinn